Docteur House was born from the Startup Studio implemented by Bengs for Sodexo. 
The start-up offers a solution to support young doctors to set up their professional activity by providing services such as general administration, IT support, services to individuals, … All these services are monitored through a single point of contact that coordinates the medical office management and provides support to the health care professionals.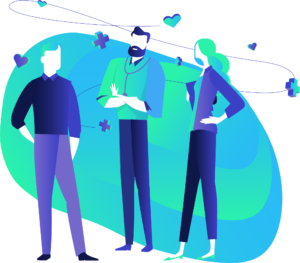 Prevent 
medical staff
 from work overload and relieve congestion in emergency rooms
General administration, logistics, IT, … The medical office management workload for professionals practicing independently increases and their medical time is reduced. This is why we imagined how to change the future of their work to make it easier. 
Thanks to the creation of a turnkey healthcare houses urban network Docteur House also contributes to attract a flow of patients close to the houses that would normally go directly to the ER.
Offer s
implicity and serenity 
every s
ingle day!
When settling, Docteur House help healthcare professionals in their individual and collective administrative formalities. They also can choose from a wide panel of selected suppliers for anything they need when they start their business (labelled medical softwares, IT equipment, medical equipment, fourniture, etc..) 
Once they are settled, Docteur House provides services to manage and coordinate the operations of their nursing home. Doctors cure their patients and the teams of Docteur House do the rest! 
Commit 
to the development 
of
 relevant
 healthcare services 
o
n 
the 
regional territories
Docteur House is specialized in supporting the creation of regional healthcare projects according to the needs of a territory, offering services to analyze health needs in an urban territory, to assess project feasibility, and to mobilize and coordinate the teams during the implementation. 
This ensures a sustainable and quick set-up, within a project that meets the public institutions expectations. 
Docteur House has helped several multi discplinary nursing houses (MSP – Maisons de Santé Pluripofessionnelles) in the analysis of medical needs, the design and the implementation of  healthcare projects, that are validated by the regulatory institutions (Agences Régionales de Santé)