5.1 A conviction : an Augmented Worker must also be a worker whose safety has been improved
WORKERS OPTIMIZATION HAS ITS LIMITS
Artificial Intelligence, as we know it today, has demonstrated its optimization potential. This is the only thing AI can do at the moment; optimize. Search through millions of parameters to find the best solution. If you don't have a precisely quantifiable metric to compare several solutions, you won't be able to use AI. This is not a problem in cases where automation is complete.
But what happens when a Human, an Augmented Worker, enters the equation? Doesn't AI risk optimizing the functioning of the system beyond the physical or cognitive capacities of the human with whom it collaborates? Augmented Worker solutions can allow us to exploit the full potential of our collaborators. But as we said in a previous chapter : Requiring workers to be 100% all the time is putting them at risk.
AN AUGMENTED WORKER MUST ALSO BE AN EMPLOYEE WHOSE SAFETY HAS BEEN IMPROVED
The conviction of the members of Bengs Lab season 7 is that an Augmented Collaborator must also be a collaborator whose safety has been improved. The Bengs Lab has addressed the urgency of detecting the warning signs of workplace accidents and psycho-social disorders. Technological advances such as artificial intelligence and the exploitation of massive data open up a new way of assessing the dangerousness of a situation a priori. These advances offer the opportunity to detect risk situations based on the analysis of large amounts of frequently updated data.
Executives from major groups, members of the Bengs Lab, have devised a model driven by Artificial Intelligence and using all the data already available to achieve this objective. It is this solution that we will present to you in this chapter.
ACCIDENTS AND ILLNESSES AT WORK ARE COSTLY FOR SOCIETY AND ENTERPRISES
The social security system states that occupational accidents and illnesses will account for 58 million days not worked in France in 2016, or 233,000 full-time jobs. These figures are alarming. In fact, the daily allowances related to these occupational risks are estimated at 2.8 billion, and have been increasing over the last three years.
In addition, the Sapiens Institute looked at the hidden cost of absenteeism. Often due to managerial dysfunctions, absenteeism has heavy financial consequences for companies. The aim of this study is to understand the overall costs generated by this phenomenon. Hidden costs are, by definition, those that are not accounted for either in profit and loss accounts or in budgets.
One study showed that social security benefits accounted for only 25% of the total costs of days not worked. Thus, accidents and illnesses at work would amount to 11.2 billion euros.
These benefits can be broken down as follows: 70% of them are related to the risk of accidents at work (i.e. 8 billion euros), 20% to the risk of commuting accidents (i.e. 2 billion euros) and 10% to the risk of occupational diseases (i.e. 1 billion euros).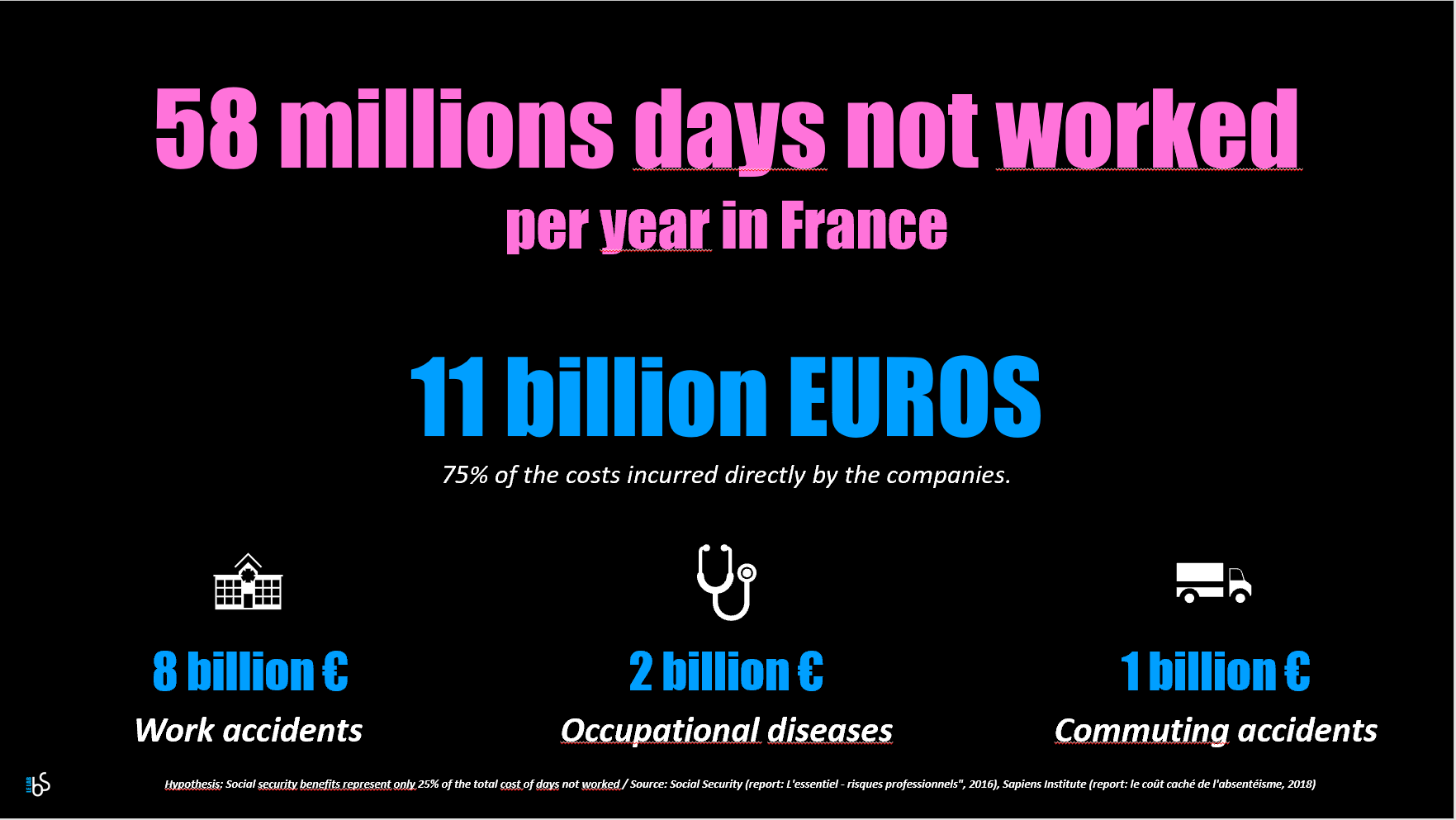 COMBINING INCREASED PERFORMANCE AND EMPLOYEE SAFETY
The methods currently available to managers in charge of improving the safety of their employees are limited.
Safety training must cover the main risks and cannot cover all situations or risks. They must be short and clear in order to be memorized by employees. They are therefore partial by nature.
Safety procedures, too, must deal with the vast majority of cases, but leave aside specific cases.
Even if many companies refuse to admit it, there is still often an opposition between safety and productivity. Companies are currently forced to arbitrate between increasing performance at the expense of safety or increasing safety that penalises performance.
Companies that have resolutely opted for "Safety First" are often forced to implement a large number of safety procedures that are very costly, often unsuitable or inapplicable.